Covid-19 Information
Si eres beneficiario de Viatgem CV, el Bono Turístico, pinchaaquí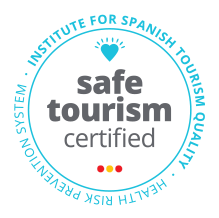 Your peace of mind is the most important thing
Our hotels have been certified by the ICTE (Institute for Spanish Tourist Quality) with the Safe Tourism Certified seal as a guarantee of implementation of the Health Risk Prevention System against Covid-19.
One Shot Mercat 09
One Shot Mercat 09 is a 4-star boutique hotel located in the heart of Valencia's old town, in a building that was fully renovated in 2017. The hotel combines an avant-garde design with cosy, comfortable and functional settings to perfection. The result of a thorough and careful job by Nonna Design in the rooms will make a big impression on you thanks to the perfect fusion of different materials, select designer furniture and calculated lighting, added to the quality of the shower and the comfort of the beds.
El Mercat
The hotel is located in the Ciutat Vella district in Valencia, close to iconic attractions of the city such as the popular Central Market, a Modernist-style building which gives its name to the area; the stunning Silk Exchange, an architectural masterpiece from the Fifteenth century; and the ever-popular and lively City Hall Square (Plaza del Ayuntamiento).
See location
Follow us on Instagram
@oneshothotels